I haven't uploaded a film in ages, so I thought I should do that this weekend. In the midst of a book report for my linguistics class, I decided it was time to take a break from my studies and relax by putting the finishing touches on this project. It's called This Drug.
It's a little project I've been tinkering on for the past few months. I had a brainstorm one day: "Wouldn't it be fun to try to work in black and white for a change?" So I started looking for a way to use some of my best black and white photographs and a few short films of mine. Chance smiled on me when I ran across an old BBC documentary about the effects of LSD on Royal Army troops. Brilliant stuff. So I added new images, music and sound FX.
The soundtrack I chose is from a great song called chanson de l'arbre by French electronica genius, Autour de Lucie. I think it works perfectly since the best scenes in the film take place in a forest.
My goal was to create a collage of experiences from my own life that successfully conveyed the feeling of being high on a governmentally created drug, known as LSD.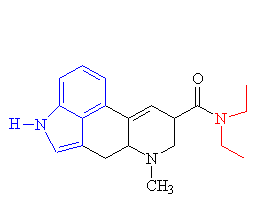 Apparently, this is the formula:
[(H-N) + (N-CH3)] + (O) + (N) + (JBLEND) =
this drug
.
Turn up the speakers and tell me what you think.